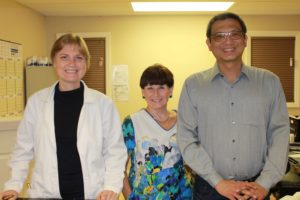 Residents from Ruskin to Riverview, as well from Wimauma to Apollo Beach, now have a new and perhaps, better option for medical care with the opening of Holistic Medical Care Clinic in Brandon Florida. Located at 205 W Morgan St. Brandon Florida, the clinic offers integrative medicine including sports injury medicine. The clinic is founded by Nataliya Sia, ARNP and Sunny Sia, Psychiatric ARNP. Holistic Medical Care Clinic's mission is to provide the best healthcare utilizing integrative medicine—a blend of conventional/Western medicine and complementary therapies. It is a healing-oriented medicine that considers the whole person, including all aspects of lifestyle and emphasizes the therapeutic relationship between practitioner and patient.
Ms Nataliya Sia, ARNP, is a native of Ukraine who speaks 4 languages (Russian, Ukrainian, Chinese-Mandarin, and English). She received her Bachelors and Masters degree in Adult Nurse Practitioner at University of South Florida (USF). She believes that the only way to treat any disease is through the holistic approach of combining lifestyle changes, exercise, and conventional medicine.'
Mr. Sunny Sia, MBA, MSN, PMHNP-BC, has joined Holistic Medical Care Clinic LLC as their psychiatric Nurse Practitioner. He holds an MBA from the University of Virginia and recently a Master's degree in Psychiatric Mental Health Nurse Practitioner from the University of South Alabama with a specialization on Child Psychiatry. Sunny's psychiatric care experience range from crisis management of adults and pediatrics (at Gracepoint and St Joseph's Behavioral health) as well as acute care recovery for geriatric patients (James Haley VA Hospital).
Sunny is a long time resident of Riverview. He hails from the Philippines and speaks 3 languages and 1 dialect. He has three young children and loves swimming and boating and plays golf for fun. He would like to heal people's lives by incorporating his background and experiences in enriching and helping his patient live a better and more fulfilling life through psychiatry
Currently accepting new patients; anyone who wishes to schedule an appointment can call (813) 398 0470.